How to create stationery
---
Electronic stationery can be created easily in any program that can support graphics.
Step 1: Add all logos and information that you would like to see in your stationery.
Step 2: Print to the Zetadocs PDF printer.
Step 3: Use the reading pane to check the layout of your stationery.
Step 4: If you are happy with the look of your stationery, then the stationery can be saved using the Save as Stationery option found in the file menu: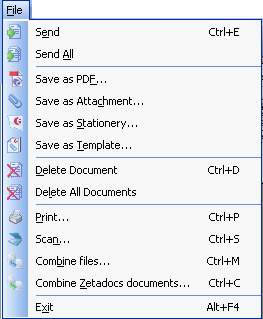 Step 5: This will open the Save As menu windows, and allow you to choose a file name for your stationery.
Step 6: Select the Save option to save your stationery.
This stationery can now be applied to any documents printed to Zetadocs PDF.
This means that you will need to position the content for stationery in areas that are unlikely to be used in your main document.
Related Topics
Tutorial 2: Creating stationery
How to add stationery to your document