Zetadocs Overview
Zetadocs has a range of features to enhance your use of Microsoft Dynamics 365 Business Central. We offer several different editions, which enable your system administrator to setup Zetadocs in the best way to meet your needs. Please contact your system administrator if you are unsure which of the options have been used in your system.
Zetadocs Express
Zetadocs Express is our foundation document management module for Microsoft Dynamics 365 Business Central. Use it to Drag & Drop documents directly onto the Business Central records they relate to, and to Save & Send reports by email. Documents are archived centrally for shared access.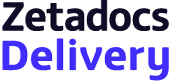 Zetadocs Delivery Essentials
Zetadocs Delivery Essentials provides the core document delivery functionality of Zetadocs, with delivery rules to automate document delivery and archiving.
Zetadocs Delivery Plus
Zetadocs Delivery Plus provides a range of customization options for Zetadocs. It is designed for use by Dynamics Partners with experience in creating per tenant AL Extensions. It is usually used to fulfill bespoke requirements for individual systems.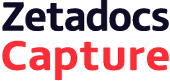 Zetadocs Capture Essentials
Zetadocs Capture Essentials provides users with the ability to drag and drop documents and emails into specific areas of Business Central.
Enhance Zetadocs Capture with a ready-to-go, no-rules, no-templates AP Automation add-on that uses AI to intelligently extract key data from your supplier invoices, matches invoice lines to orders lines, then creates Purchase Invoices directly inside Business Central, saving you more time.
Zetadocs Capture Plus
Capture Plus provides a number of customization features to Business Central users. For example: Custom Document Queues, Optical Character Recognition (OCR) and Barcode recognition with associated auto link automation.
The Zetadocs Server is used to automatically convert scanned documents and emails into PDF/A format. It displays them Zetadocs document queues ready for processing and archives them in SharePoint online, once processed