How to change the automation settings
---
Note: Automation is only available if you have purchased an automation licence.
The automation settings allow you to set default Batch submission options and Delivery method options.
Specifying Batch submission options:
Step 1: Select Options from the Tools menu in the Zetadocs Client.
Step 2: Choose the tab entitled Automation as shown in the screen below.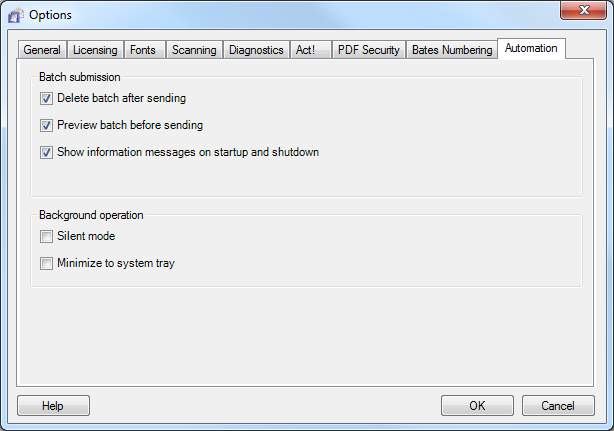 Step 3: Select the Delete batch after sending option in the Batch submission section if you wish to delete the batch after all documents have been successfully sent. Otherwise documents will be stored in the document explorer window after sending. 
Step 4: When a batch is submitted to the Zetadocs Client, all documents will be sent immediately by the delivery method specified in the embedded commands. If you wish to preview the batch before it is sent, for example, to check the attachments or that addresses are correct, then select the Preview batch before sending option.
Step 5: Select the Show info messages on startup and shutdown to display messages on startup and shutdown should there be any batches with unsent items, as shown below:
Message displayed on Startup if you have unsent documents: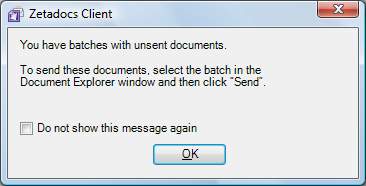 Message displayed on Shutdown if you have any unsent documents: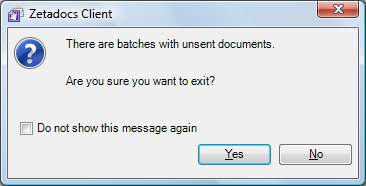 Step 7: When you have made your changes, click the OK button to action them.
Specifying the Background Operation options:
If you wish to utilize Background Operation there are two options you can select from.
Minimize to System Tray
Firstly you can check the Minimize to System Tray checkbox if you wish Zetadocs be removed from the task bar and placed within the system tray when minimized.
Silent Mode
The Silent Mode checkbox allows you to decide whether you are notified of errors via a message in the system tray or by the Zetadocs Client popping up. Check the Silent Mode option if you wish the Zetadocs Client to remain minimized on errors and provide a warning in the system tray.
When you have made your changes, click the OK button to save them.